Welcome to The Vault Wiki



This Wiki is a database for all things "The Vault"
It may contain spoilers so we suggest you watch before you read!
The Vault is an original web series created by Aaron Hann and Mario Miscione, with the support of Mark Cuban and AXS TV.
The year is 2016. TV sucks. Ratings - at least at one major network - are at an all-time low. Desperate to save their jobs, the executives make an unprecedented decision: It's time to pull the plug. On everything. All programming must go. But what will replace it?

Enter "The Vault," the greatest reality television competition in history... Or at least that's how they're selling it. A 24/7 game show that offers more questions than answers. The contestants, college students chosen from all over the country, will have 7 days to uncover its secrets and win a multi-million dollar prize. But once they're locked inside, they'll discover a game that's bigger and stranger than they could have ever imagined.
Connect with other fans! Join CHAT to talk about everything "The Vault" or join one of the above forums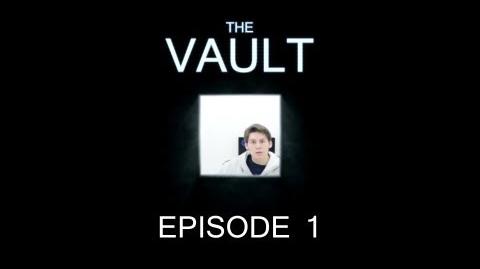 "The Vault is easily the most suspense filled series yet highlighted on #WebSeriesWednesday"
-Snobby Robot

The Vault crosses the 1,000,000 view mark!
We did it! THE VAULT has crossed the 1 million view mark and is still climbing! Thank you guys, truly. To say we couldn't have done it without you is an understatement.

New Video Challenge!

Go to the Challenges page and give it a shot!
The Vault can now be seen at 30,000 ft.
"The Vault" can now be viewed on Virgin Airlines. Next time you're aboard, check us out!




The Vault won BEST WEB SERIES at the HollyWeb Festival!
"The Vault" had a successful weekend at The HollyWeb Festival. "The Vault" screened at Raleigh Studios on Saturday, April 6th, and then went on to win BEST WEB SERIES at the awards ceremony on Sunday, April 7th at Avalon Hollywood. HollyWeb put on an amazing event, full of wonderful series by creators from all over!