_____________________________________________________________________________________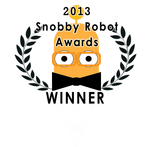 The Vault wins Best Direction and is nominated for 6 other categories! "One of
        the most well rounded series I have come across"
        "The Vault is easily the most suspense filled series yet highlighted on #WebSeriesWednesday"
        "Two filmmakers set out to prove that quality doesn't have to be sacrificed due to small budgets and crew,
        and that's exactly what they did."
        "Utterly fascinating web series" 
        "One of the web's most exciting new series" 
        "Quite Easily the greatest independent low-or-no budget web series ever" 
        "In only 2 Episodes The Vault had become my new Lost" 
        "Easily the most impressive part of The Vault is that the production team consists of only Hann &
        Miscione"
_____________________________________________________________________________________
_____________________________________________________________________________________
"The Vault" team made an amazing 50 minute finale instead of 30! So we present you with the next
15 minutes...Episode 13! Watch now! There's still more to come...
Episode 12 is released, the countdown to The Vault 30-minute MEGAsode finale begins now...
Friday, April 12th, "The Vault" released the long awaited Episode 12 and did not disappoint! Response has been great! Watch and see what you think here!

Episode 12 marks the first part of the last 45 minutes of "The Vault."
The Vault won BEST WEB SERIES at the HollyWeb Festival!
"The Vault" had a successful weekend at The HollyWeb Festival. "The Vault" screened at Raleigh Studios on Saturday, April 6th, and then went on to win BEST WEB SERIES at the awards ceremony on Sunday, April 7th at Avalon Hollywood. HollyWeb put on an amazing event, full of wonderful series by creators from all over!
_____________________________________________________________________________________